---
Pre-Vocational Services in the 21st Century
Decatur Training Handout Available: PowerPoint File
---
AL-APSE The Independence Newsletter Winter 2018: Volume 4, Issue 11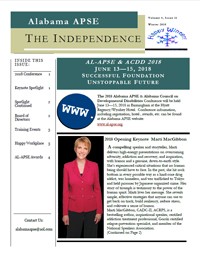 INSIDE THIS ISSUE: 2018 Conference | Keynote Spotlight | Board of Directors | Training Events | Happy Workplace | AL-APSE Awards
AL-APSE & ACDD 2018, JUNE 13 -15, 2018
SUCCESS FUL FOUNDATION UNSTOPPABLE FUTURE
The 2018 Alabama APSE & Alabama Council on Developmental Disabilities Conference will be held June 13-15, 2018 in Birmingham at the Hyatt Regency/Wynfrey Hotel.
2018 Opening Keynote Marti MacGibbon
A compelling speaker and storyteller, Marti delivers high-energy presentations on overcoming adversity, addiction and recovery, and inspiration, with humor and a genuine, down-to-earth style. She's experienced critical situations that no human being should have to face.In the past, she hit rock addict, was homeless, and was trafficked to Tokyo and held prisoner by Japanese organized crime. Her story of triumph is testimony to the power of the human spirit.
Read the Winter Newsletter (PDF)
---
2018 AL-APSE & ACDD Conference (June 13 - 15)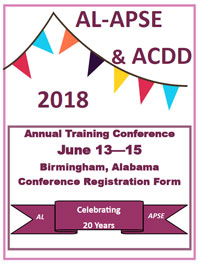 The 2018 Alabama APSE & ACDD Conference has been confirmed for June 13-15. This year's event will be held in Birmingham at the Hyatt Regency - The Wynfrey Hotel, located at 1000 Riverchase Galleria. Alabama APSE became recognized chapter of the National APSE Organization in 1998 and our first conference was held in 1998 at the Alta Vista Hotel in Birmingham with just over 100 attendees. This year marks the 20th Anniversary of Alabama APSE. We are returning to Birmingham to celebrate this milestone. Alabama APSE values and appreciates the co-sponsorship of the Alabama Council on Developmental Disabilities for many of our successful conferences. We are again excited to co-sponsor the 2018 event.
AL-APSE & ACDD 2018 Conference Handouts/PowerPoints
The registration form is attached. You are encouraged to register electronically. However, we will gladly accept paper registration forms as well. Please note on page 3 of the registration form, multiple options for registering electronically.
Outline of Course Content & Continuing Education Information (Word doc) This program is offered for 10 clock hours for Counselor and Social Worker; 12 contact/clock hours for nurses.

Please note the following:

If you are registering to attend the conference and paying by Check or Credit Card, please click this link: http://events.constantcontact.com/register/event?llr=eq8in9eab&oeidk=a07eeze7j7nb0e47c2e. We accept multiple credit cards. Checks should be mailed within 10 days of registering to avoid cancellation!


If you are registering via a Purchase Order, typically agency employees, etc., please click this link: http://events.constantcontact.com/register/event?llr=eq8in9eab&oeidk=a07eeze95sp72217a09. Please include address of where to send invoice for payment when registering!


A limited number of sponsorships will be available utilizing Consumer Involvement Funding. To request "consumer involvement funding" please register as a self-advocate and or family member/care giver by clicking link below: http://events.constantcontact.com/register/event?llr=eq8in9eab&oeidk=a07eezeb2rb4c149631.You will also need to submit the Consumer Involvement Application Form found on page 4 of the attached registration form.
If you are unable to register electronically, please complete the conference registration form found on page 3 and submit by mail to AL-APSE, PO Box 240691, Montgomery, AL 36124. You can also scan and email to Byron.white@mh.alabama.gov
A room rate of $96.00 per night is available. You are encouraged to reserve your room early as the block will fill up. The $96.00 room rate expires on May 22, 2018.
Conference Awards and Scholarships Information
AL-APSE 2018 Awards Description & Nomination Information - DEADLINE to Submit Nominations: May 4, 2018 (PDF)
2018 Chuck Sheehan Scholarship - DEADLINE for Application: May 1, 2018 (PDF | Word)
2018 AL-APSE Dinē Barclay Scholarship - DEADLINE: April 30, 2018 (PDF | Word)

---
Agencies partner to offer innovative Project SEARCH program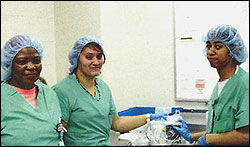 Seeks to secure competitive employment for students with developmental disabilities
By Kristi Gates and Peggy Olson, Alabama Department of Mental Health Outlook
When 11 high school seniors in the Montgomery area leave for school each morning, they are actually going to Baptist Medical Center South in Montgomery to participate in a unique school-to-work program called Project SEARCH.
---
AL-APSE Seeks Board Members

Al-APSE is currently seeking hard working members to serve on the Board of Directors. If you would like to become a leader within AL-APSE please submit your letter of interest with the following information to Beth Hanks and Byron White: Membership ID number and how you are connected to the enhancement of employment for people with most significant disabilities. The Board meets every other month via conference call with two face to face meetings per year - June and December generally. More information
---
The AL-APSE, The Network on Employment was formed in 1997 as a chapter of APSE, The Network on Employment. It is our goal to improve and expand integrated employment opportunities, services, and outcomes for persons with disabilities through employment with supports (supported employment).
AL-APSE is a membership organization with members from all part of Alabama. This website is designed as a resource to: Facilitate Alabama's supported employment process for people with disabilities; Provide useful employment related information for Alabamians with disabilities; Encourage the hiring of people with disabilities on a statewide level.