---
AL-APSE 2017 Conference Handouts
To access handouts from 2017 AL-APSE & ACDD conference, click on the following link, https://al-apse.org/2017_conference.html

---
3-Day Certificate-Based Job Coach/Supported Employment Customized Employment Training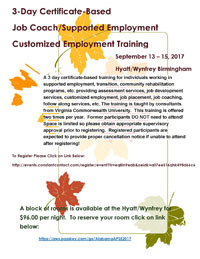 September 13 – 15, 2017 | Hyatt/Wynfrey Birmingham
A 3 day certificate-based training for individuals working in supported employment, transition, community rehabilitation programs, etc. providing assessment services, job development services, customized employment, job placement, job coaching, follow along services, etc.
The training is taught by consultants from Virginia Commonwealth University. This training is offered two times per year. Former participants DO NOT need to attend! Space is limited so please obtain appropriate supervisory approval prior to registering.
Registered participants are expected to provide proper cancellation notice if unable to attend after registering! [Print Training Flyer - PDF]
To Register Please Click on Link below:
http://events.constantcontact.com/register/event?llr=eq8in9eab&oeidk=a07ee516qhk498d66c6
A block of rooms is available at the Hyatt/Wynfrey for $96.00 per night. To reserve your room click on link below:
https://aws.passkey.com/go/AlabamaAPSE2017
---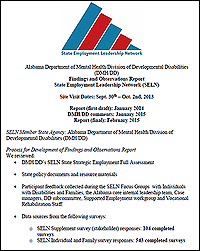 State Employment Leadership Network
SELN Findings and Observations Report – Alabama
Alabama Department of Mental Health/Division of Developmental Disabilities (DMH/DD)
Site Visit Dates: Sept. 30th – Oct. 2nd, 2013
Report (first draft): January 2014
DMH/DD comments: January 2015
Report (final): February 2015

SELN Member State Agency: Alabama Department of Mental Health/Division of Developmental Disabilities (DMH/DD)

SELN Findings and Observations Final Report – Alabama (PDF)
---
Agencies partner to offer innovative Project SEARCH program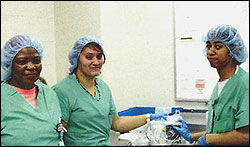 Seeks to secure competitive employment for students with developmental disabilities
By Kristi Gates and Peggy Olson, Alabama Department of Mental Health Outlook
When 11 high school seniors in the Montgomery area leave for school each morning, they are actually going to Baptist Medical Center South in Montgomery to participate in a unique school-to-work program called Project SEARCH.
---
AL-APSE Seeks Board Members

Al-APSE is currently seeking hard working members to serve on the Board of Directors. If you would like to become a leader within AL-APSE please submit your letter of interest with the following information to Beth Hanks and Byron White: Membership ID number and how you are connected to the enhancement of employment for people with most significant disabilities. The Board meets every other month via conference call with two face to face meetings per year - June and December generally. More information
---
The AL-APSE, The Network on Employment was formed in 1997 as a chapter of APSE, The Network on Employment. It is our goal to improve and expand integrated employment opportunities, services, and outcomes for persons with disabilities through employment with supports (supported employment).
AL-APSE is a membership organization with members from all part of Alabama. This website is designed as a resource to: Facilitate Alabama's supported employment process for people with disabilities; Provide useful employment related information for Alabamians with disabilities; Encourage the hiring of people with disabilities on a statewide level.